Yes, this would be one of those aforementioned
Twilight
-themed posts. But don't stop reading just yet or you'll miss the good stuff! This past weekend I hosted, what I dubbed, a Twi-tini Party. A bunch of girls and I got together and watched the first two movies in the saga, Twilight and New Moon in anticipation (preparation for a couple of the ladies who hadn't seen either!) for the release of Eclipse. Drinking + hot vampires + hot werewolves = one helluva fantastic evening!
The essential component of the Twi-tini Party is, as you may have already guessed, a martini! A Vamptini, to be precise! I'm sure there's some sort of "official" Vamptini recipe, but being lazy inventive,
rather than do the research,
I threw together my own version of the cocktail. My creation came out a blood red color - very thematic! - and it was, uh potent, and quite delicious!
~1 Part Pomegranate Drink Mix (or Pomegranate Liqueur for extra potency!)
~Rosé Sparkling Wine (I used Bitch Bubbly - I love Bitch Wine, so I had to try the Bubbly and it is great!)
Dip the rim of a glass into the Raspberry Syrup and then dip the rim into the rimming sugar. In a martini shaker, mix the Raspberry and Citrus Vodkas and the Pomegranate Mix with ice, cover and shake well. Strain into the sugar-rimmed glass and top with the Rosé Sparkling Wine.
I also wanted to serve wine from Vampire Vineyards, but for the life of me, I could not find a bottle of the stuff! Apparently, it only sells well around Halloween. Whatevs. I'll just say I've had one of the reds from Vampire Vineyards before, I think it was the Cabernet Sauvingnon. It was delish and affordable, so I recommend it if you can find it.
You can't have movie night without snackies. I did go mega-overkill with the food, but hey, now the husband and I have meals taken care of for the week! I made three pizzas, Roasted Red Pepper Dip, and Hawaiian Meatballs with Rosemary Ginger Roasted Potatoes. Since I was running a tad bit late, I didn't get a picture of the other two pizzas, so I'll only post what I did get, with the recipes, and I will re-make those pizzas at a later time and post with pictures and the recipes.
Roasted Red Pepper Dip (from Cooking Light)
2 Red Peppers (or 1 8oz. jar Roasted Red (Bell) Peppers for the lazy wife version)
2 unpeeled Garlic Cloves (or 1 tsp. chopped garlic from the jar)
8 oz. Cream Cheese (the lowfat works really well you can't tell the difference)
1/4 tsp. Crushed Red Pepper (less if you want less heat)
Preheat the broiler. Cut the peppers lenthwise and remove the seeds and membranes. Place peppers, skin side up, on a foil-lined baking sheet and flatten with your hand. Place the garlic cloves on the sheet, as well. Broil for 4 minutes, then turn the garlic over and broil for 4 more minutes, or until blackened. Remove the garlic from the sheet and set aside. Broil the peppers for an additional 2 minutes, or until blackened. Remove, and place the peppers in a zip-top plastic bag, seal, and let stand for 15 minutes. Peel the skin from the garlic and peppers, and discard. Place the roasted peppers and garlic in a food processor and process until smooth. You can also use a deep bowl and a hand-held mixer (like one of those for mixing smoothies). Add the cream cheese and process until smooth. Stir in vinegar, salt, and crushed red pepper.
Serve with chips (I love fresh flour tortilla chips) or varying crudit
é for a healthier snack.
Beef and Prosciutto Pizza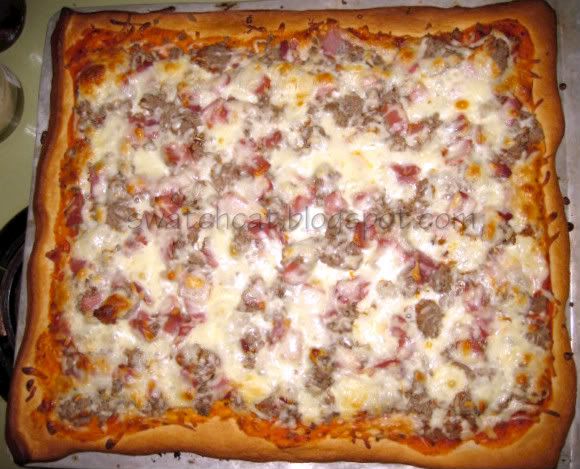 1 Refrigerated Thin Pizza Crust
2 oz. Prosciutto, sliced thick and chopped into small 1/2-inch strips
4 oz. Fresh Mozzerella, sliced thick and chopped into small 1/2-inch strips
8 oz. Shredded Mozzerella
Prepare refrigerated pizza crust as instructed. In a large pot, bring 6 cups of water to boil and place the ground beef into the water. Loosen the beef in the water using a spoon or potato masher. This will result in more of a "loose meat" rather than small chunks, although there may be few small chunks. It should only take about 5 - 7 minutes to cook the beef through by boiling it. Spread the marinara sauce over the crust and layer in the following order: beef, prosciutto, fresh mozzerella, and shredded mozzerella. Bake until crust is a golden brown and cheese is completely melted and starting to brown, about 12 - 14 minutes. Wait 5 minutes and then slice.
Hawaiian Meatballs and Rosemary Ginger Roasted Potatoes
1 c. cooked Brown Rice (equates to 3/4 c. uncooked rice)
1 can Crushed Pineapple, drained
Preheat oven to 350°. Coat a roasting pan (or something with slats to allow the drippings to fall through). Combine all the ingredients in a large bowl and mix well. Shape into firm meatballs. 1-inch sized balls will yield approximately 40 meatballs, 2-inch sized balls will yield approximately 20. For 1-inch sized balls, bake for 25 minutes; 2-inch sized balls will take around 50 minutes, or until thoroughly cooked. These are easily transferred to a crockpot for serving.
Rosemary Ginger Roasted Potatoes
Preheat the oven to 450° and spray a baking sheet with non-stick spray. Wash potatoes thoroughly and slice each potato into quarters. Potato chunks should be approximately 1 inch pieces, so larger potatoes may need more than quartered. In a large bowl, combine the oil, rosemary, ginger, and salt, and mix well. Dump cut potatoes into the bowl and stir well until potato pieces are coated with the seasoned oil. Dump potato pieces out onto the baking sheet in a single layer and put into oven. Bake for approximately 25 minutes or until potatoes are turning a light golden brown. Remove and let cool before serving.
Crushed Red Pepper or Hot Sauce to taste (1/2 tsp. CRP provides a nice, complimentary heat)
Combine the sauce ingredients in a medium sauce pan and stir until the cornstarch is dissolved. Place over medium heat until the mixture comes to a boil. Reduce the heat and cook for another minute or until the sauce thickens slightly. Pour the sauce over the meatballs and serve. If you want sauce over the roasted potatoes also, then double the recipe.
Now, I don't want to take all the credit for the entire party because it really was a team effort. The husband helped me finish cleaning the house, made one of the pizzas, and cleaned up after us. And my lovely guests also brought some delicious dishes to share, including some sinful desserts! I'm looking forward to the next time I can host movie night!