After several non-swatch-related posts, I'm finally getting back to doing what I set out to do...swatches! And after hauling big time from American Apparel's Friends & Family Sale, I've got a bunch of 'em! In fact, I owe this entire haul to my friend Audrey, who alerted me to the sale. I'd been lemming several of the reformulated polishes, and what better time to pull the trigger than when they're 30% off? I ended up getting 13 in all, and I'll post the first batch today, second batch tomorrow.
My general thoughts on these polishes are that they are freaking awesome! All creams, not a frost, shimmer or glitter among them. The formula is fantastic, although a little drippy, since they're big 3 free. Every single color had full coverage in two coats - TWO COATS - with a couple completely opaque in just a SINGLE coat! The majority I had absolutely no application problems with, and the ones that were troublesome (if you can even call them that) just had streaky application with the first coat, which is not uncommon with cream polishes, anyway. My verdict...get thee to the nearest American Apparel store (or nearest computer) and snatch up a few of these babies. You won't regret it.
Five paws up!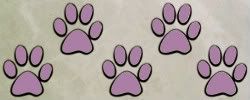 Onto the good stuff.
Poppy is a bright coralish red, and has summer written all over it. You'll find that most of AA's names are pretty apt descriptions of the color of polish. This is no exception. I probably would've skipped this polish if Audrey hadn't been drooling over it since she got hers, so with her recommendation, into the basket it went, and I really like it.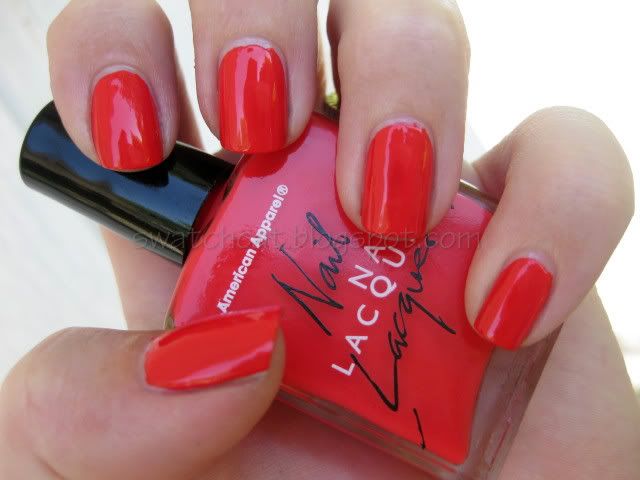 Dynasty is a dusty violet that is definitely more red-based than blue. I'd describe it as vintage violet. The color online is a little deceiving, and the color in the bottle is even more deceiving, but the color I captured is pretty accurate. Surprisingly since purples don't photograph well. I guess the red base in this one helps. I really love this color. It's soft, pretty...vintage-y.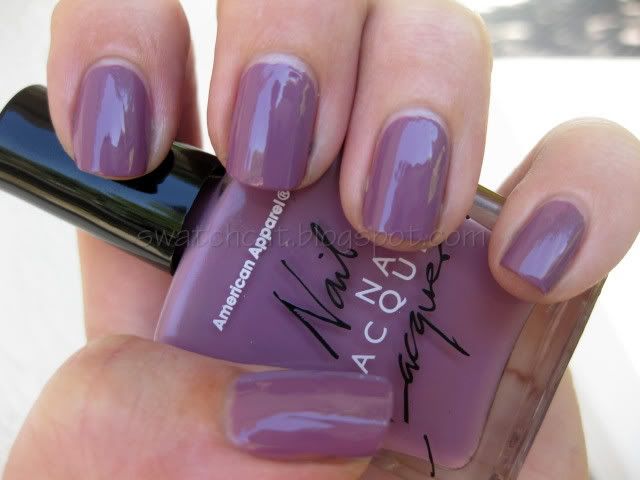 Butter is one of the new colors released for spring. Again, the name is pretty spot on. It looks like butter. Real butter, not that margarine crap. I don't think I'd quite call this a true pastel, although it is quite pale. There's not quite enough white in the base, which keeps it from being a chalky, pale yellow. I quite like it.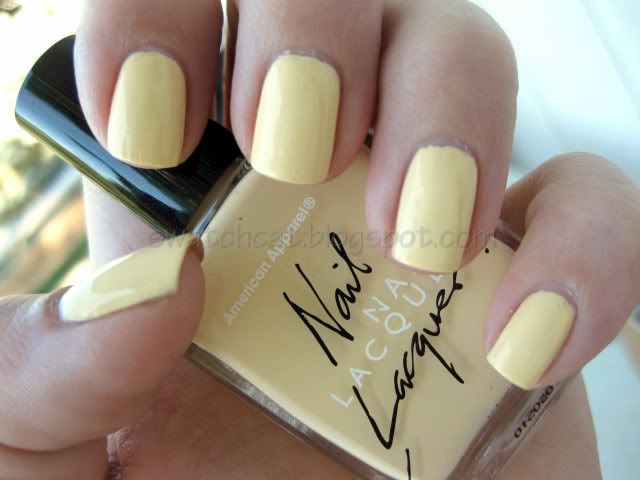 California Trooper is another new spring color, and I'm not exactly sure how to describe it. AA says the color was inspired by the troopers' khaki uniforms. Being that I don't live in California, I can't attest to that, but traditional khaki seems too dark to describe this color. I guess it's a pale putty? Spackle? Garbanzo bean? I don't know...think creamy beige with a tinge o' green. Whatever it is, I love this color.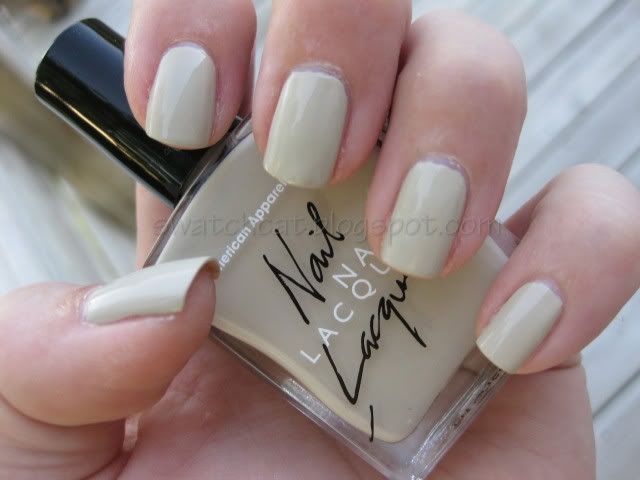 Summer Peach is yet another new spring color with an apt name. I'm not complaining, it's a lovely color. Very close to 'mannequin hands' for me, actually. I never thought of myself has having that 'peaches 'n' cream' skintone, but this polish proves otherwise. It's another soft, pretty color. Very office-appropriate.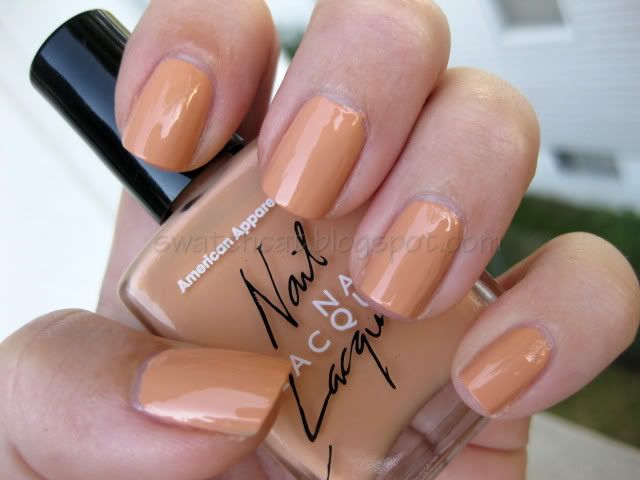 Malibu Green is the last of the new spring colors I selected. It's not green-green. More like tropical-green. It's definitely got some blue in it, and it's gorgeous. Bright, summery...love this color.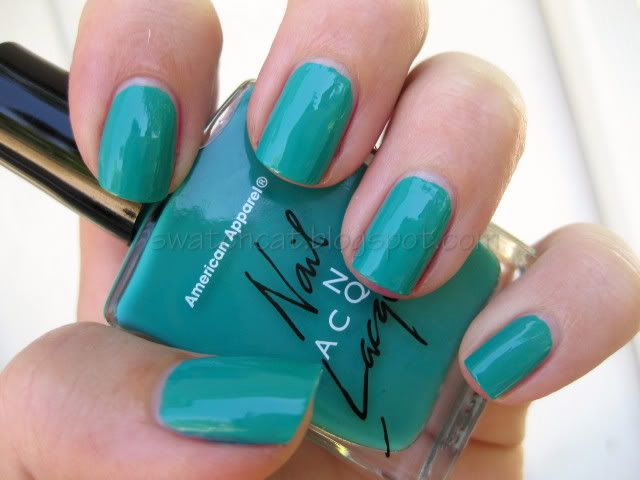 That's all for today. Check back tomorrow for round two!