Make Up For Ever launched a new product, Aqua Cream, a couple months back. Since I don't live in NYC I had to wait for them to be released at Sephora, which they finally were to Beauty Insiders, just a couple of weeks ago. After reading some of the initial review from the lucky NYC ladies who were able to snap them up immediately, of course I wanted to try them! Creamy, pigmented, superior staying power. A shadow lover's dream!
Since I have quite a few cream shadows already, I picked colors that I didn't already have. I went for #4, a bright, shimmery white, #5, peach with golden shimmer, and #12, a golden, shimmering bronze with the prettiest golden glitters (super subtle, so no worries about being a disco ball).
These are supposed to be long-wearing and crease-proof. I don't have super oily lids, but I do have problems with pretty much everything creasing on me. I tested #5 under the ultimate conditions, heat and humidity. Unfortunately, I experienced not only fading, but creasing, even when topped with a powder shadow.Not wanting to give up, I tested #4 with Urban Decay Primer Potion (UDPP) underneath and had fantastic results. No fading or creasing, whatsoever. Incidentally, these are a multi-use product. I use cream products pretty much exclusively as shadows, but #5 does make an excellent blush.
I won't lie, I was a little disappointed that they didn't work out for me as they have for others. I would be nice to skip that extra step of applying UDPP, but I'm not so lazy that I'd pass up an otherwise great product. But, I did like the consistency, and these being shimmer bases, applying and blending shadow over the top was much easier that with other shimmery bases. These are also a bit pricey ($22), as are many MUFE products. However, in that same vein, they are incredibly pigmented, so a little goes a very long way.
Left to Right: #4, #5, #12
Overall, I give these 4 paws up.
I'm sure I will be purchasing more in the future.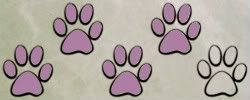 And of course, swatchcat C and swatchcat D were ever so helpful in the swatching process...NOT! Lazy beasts fell asleep! Good to know I can count on them