Well, it's taken me forever, but I've finally gotten around to getting the China Glaze Vintage Vixen Collection swatched. No excuses, really. But, a few of the colors, I wanted the opportunity to enjoy wearing before I wiped the polish off and swatched another color (I'd like to have worn all of them for a few days, but then I'd never get anything posted in a timely manner). There are twelve colors in the collection, seven of which I purchased.
Classic Camel is a fairly apt description. It's a creamy, well camel, yellow, reminiscent of dijon mustard with gold microglitter. As I was applying it I couldn't help thinking, "Colonel Mustard in the Conservatory with the Lead Pipe," and wondering why there hasn't been a "Clue" inspired nail polish collection. Can't you just see it? A divinely plush Professor Plum, a sensual, sassy Miss Scarlet. You could even throw in a creamy nude (maybe with a glint of golden shimmer) for Mr. Boddy. Let's make this happen...who do I call?
Ingrid is a warm taupe cream with gold microglitter. The base of this color is one we've been seeing a lot lately. The gold microglitter really warms up the usual cool taupe base and leaves me with a warm, fuzzy feeling. Taupe polish + glitter? Love.
Swing Baby is a metallic champagne-y, taupe-y color. Kinda hard to nail down exactly what to call this color. Up close, you can see the metallic champagne and copper flakes, and those meld together to create a beautiful, metallic neutral. It's definitely different than OPI's Glitzerland, which is more gold-toned. And like Glitzerland, it's one of those colors you can't stop staring at. Word of advice, don't stare at it in direct sunlight. You'll blind yourself.
More after the jump!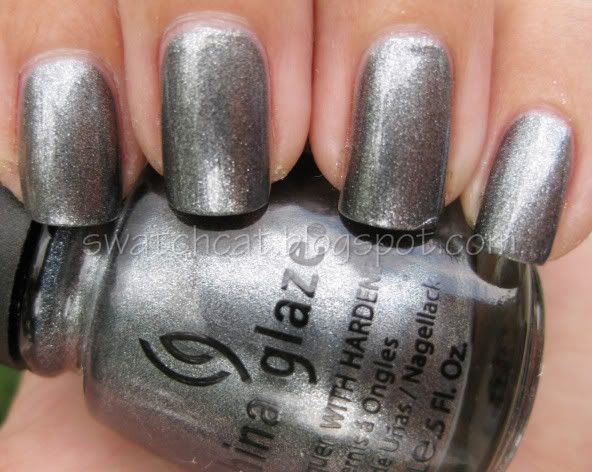 Jitterbug is a metallic charcoal. Very similar to OPI's Lucerne-tainly Look Marvelous. Up close you can see the same silver and charcoal metallic flakes. Sparkly and a fun change from the black polishes of the past couple of years. It would be great for a night out.
Midnight Mission is a deep, metallic blue polish with tons of silver and blue glitter flakies, like little stars in the night sky. Unfortunately, I do not have the much lusted after Essie Starry, Starry Night for comparison purposes. This polish is a nice twist to the deep blue polish, but honestly, there's a bit too much silver glitter for my taste.
First Class Ticket is a deep blue-purple (blurple) with blue microglitters. The base is a near-frost, but thankfully, not quite. I apologize for the horrid quality of that first picture. I tried and tried to capture the color, but it kept photographing far more blue than it really is (I adjusted the pictures so that they are representative of the color in the bottle).
Bogie is a smokey, metallic plum. It's not straight-up plum-purple. There is a gorgeous smokey taupe cast to the plum. In the sunlight, you can see all these multi-color shimmers, too! For a metallic, it applies so nicely and without streaks. I love, love, love this color. Hands down, my favorite.
Most of the colors in this collection are nice, but maybe not terribly unique. Variations on colors we've seen before, and a couple are near dupes from other fall collections that are currently out. My top three picks would be Bogie, Classic Camel and Ingrid (Swing Baby is a close runner-up). The China Glaze Vintage Vixen Collection is available at most beauty retailers (Ulta, Sally's, etc.) and online (head2toebeauty.com, transdesign.com).