I'm always interested in trying new brands, and while perusing Urban Outfitter's beauty section, A Beautiful Life piqued my interest. A Beautiful Life products are all natural and petrochemical-free. Being the nail and lip junkie that I am, I selected one of the S'Stains Lip Shines and two of the Natural Nail Lacquers to try out.
S'Stains Long-Lasting Satin Lip Shines (from ABL):
S'stains are 100% natural, paraben-and petrochemical-FREE satin-y lip glosses. Each color is packed with natural lip conditioners, like shea butter, vitamin E and the near-miraculous ARGAN OIL! It also packs a pleasantly plumping trio of essential oils (cassia, peppermint, and ginger) - JUST ENOUGH to smooth fine lines and give you the perfect pout without stinging (ouchies!).
I selected 80's Pink, which is a sheer, bright bubblegum pink with white and violet shimmers. The Lip Shine comes in a squeeze tube with a slant-tip applicator. Satin Lip Shine is quite an accurate descriptor. It's not a gloss, but there's more shine than a balm...the finish is satin. It gives the lips a nice, natural sheen. S'Stains are not sticky or tacky. The texture is reminscent of Burt's Bees Lip Shines, if you've ever tried those.
The plumping action, well, honestly it's hard to tell on me. I will say, no stinging, and just an ever-so-slight slight tingling, that didn't bother me at all. Usually, just the tingling sensation that is in most plumpers is enough to keep me away, but I'm totally fine with this. The scent is really pleasing and not overwhelming. I first thought, "Mmm, cinnamon!" But, after reading the description, I totally pick up the peppermint and ginger.
Wearability, well, I wouldn't necessarily say it's long-wearing. The sheen fades within an hour or so, and the color lasted about three hours (and yes, I ate and drank). Afterward, my lips did feel nice and soft, and with the shea butter, vitamin E, and Argan Oil, I can only imagine they'll feel even better with regular use of this lip shine.
Overall, I really like the Lip Shine, and I plan on getting a couple more. They're available through A Beautiful Life and are $14 each for 10mL (oddly enough, I can't find them on UO's website anymore). I give the S'Stains Lip Shine 4 paws up!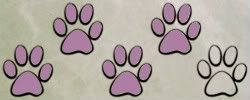 Keep reading for my review and swatches of the Natural Nail Lacquer.
Natural Nail Lacquer
(from ABL): Going green does not mean sacrificing your style. A Beautiful Life Natural Nail Laquers offer amazing wear and incredible colors - WITHOUT any of the nasty chemicals. They're even safe for kids!
'Shroom is a gorgeous, near-metallic taupe, that has a smokey sheen to it at certain angles. Seriously, this color is so pretty it makes me want to cry. It is the PERFECT taupe, people. I took so many pictures so that you can see the beauteousness of 'Shroom. Just the right amount of grey and pink mixed in makes this a great taupe for every skintone. The only drawback is that you'll have to be careful with the application or you'll get brush strokes, thanks to the metallic-ness property of the polish.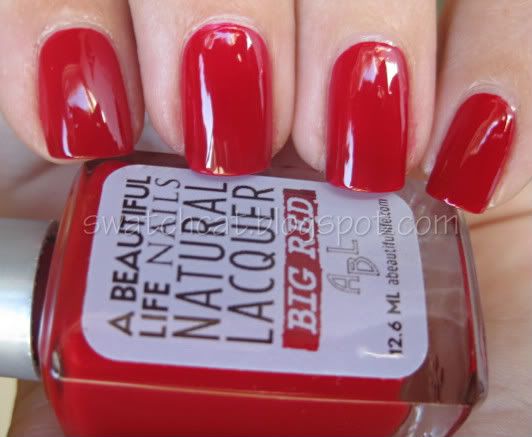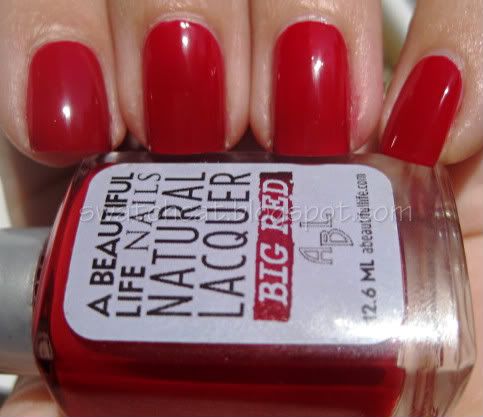 Big Red is a gorgeous cherry-red cream. I'm going to let you in on a little secret. I bought this polish purely because the name aligns with my college football team. That's right, folks. I'm a Nebraska Cornhusker fan (born and bred, baby! no haters, please!), and you better believe I will be rocking this polish as often as possible for gameday. Football allegiances aside, this polish is ultra-glossy and sexy, and deserves a place in any red-lover's stash. GO BIG RED! GO BIG RED!!
These polishes apply incredibly smooth, and they are far less drippy than other brands that are Big-3 Free. Coverage on the two that I tried is amazing. Opaque in just two coats (I always do a third just 'cause). I know there is some VNL showing in the Big Red photos, but it doesn't show IRL. I'm really rough on my nails (I peel stickers with them, I type with them, etc...), and EVERY polish chips on my within a couple of days, so I'm not a very good judge for wearability. However, I did get a couple days' wear without any chips (and really, that's a record for me). I plan on getting a couple more of these polishes because less chemicals is good right?! Plus, they really are great polishes. They are available through A Beautiful Life and Urban Outfitters, and retail for $12 each for 12.6mL (roughly the same as the standard .5oz polishes). I give the Natural Nail Lacquers 5 paws up!