I know, I know...a pun for my first beauty post? Sorry, but I couldn't resist. Y'all can thank my dad for my love of the occasional pun. This is a manicure I did using Chanel Particuliere and Illusion D'Or Le Vernis. I realize Particuliere is old news, but I thought I would update it with one of Chanel's newest Le Vernis releases, Illusion D'Or. Illusion D'Or has been much blogged about already, so I'll spare you the details and just get the the good stuff - pictures!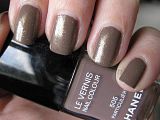 More pictures after the jump - click to enlarge 'em!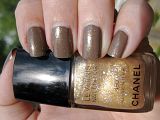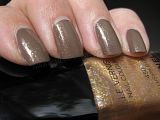 Illusion D'Or adds just a little more to Particuliere, which is already gorgeous by itself. The little flashes of violet are totally unexpected, and add a fun twist to the taupe mani.
(And my apologies for the blurry photos. I promise I will improve!)