Ever since J. Crew introduced the Metallic Guava color in their leather flip-flops, I've been lemming a pair. They're so simple, yet elegant at the same time.
(image from
J. Crew
)
Lovely, no? But at $49.50 (exclusive of tax and shipping) they're a bit steep for such a simple design. So, I put them in the back of my mind to purchase when I hit the big Powerball jackpot.
Today's errands took me to Target, where the husband tasked me to find him a pair of insoles. Naturally, those are found near the shoes, and I figured while I was there I'd take a little looksie around. I love Target for shoes. They're cute, affordable, and usually pretty comfortable. Everything a girl could ever want. I found myself eyeing three new pairs of flats and a pair of beaded wedges, and then I laid eyes on these...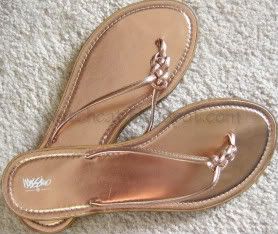 Super cute, right?! They're the exact same color as the J. Crew ones, and I love the braiding detail...and they were under $7.00!! Super deal! I promptly did a little happy dance as I tossed them into my cart and went on my merry little way. I'm really looking forward to getting some use out of these this summer.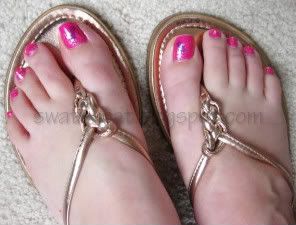 To show off my new find, I decided I'd give myself a fresh pedicure and try my hands at nail stamping. I purchased both a few Konad plates (from OCNailArt.com) and plates from Bundlemonster on Amazon a couple weeks ago. Here's what I came up with: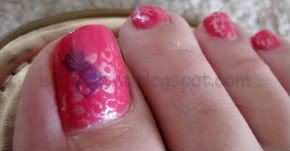 Of course I went with a kitty theme! Base polish is China Glaze B-Girlz, Leopard Print using Konad plate m57 with silver Konad polish, and Kitty using plate BM04 with purple Konad polish. Not too shabby for my first time, although I will admit there was quite a bit of trial-and-error. Practice makes perfect!