When I started this blog, my goal wasn't to collect as many followers as possible. I really just wanted to get swatches and inspiration out to the masses. I am so thrilled, though, that I have so many people who care what I have to say about beauty, fashion, etc...
So, to celebrate, I'm going to do TWO giveaways! First up, I have a set of Zoya Ultraglitters Astra, Luna and Nova. Second, is a bottle of OPI My Private Jet (the deep brown with holo glitter).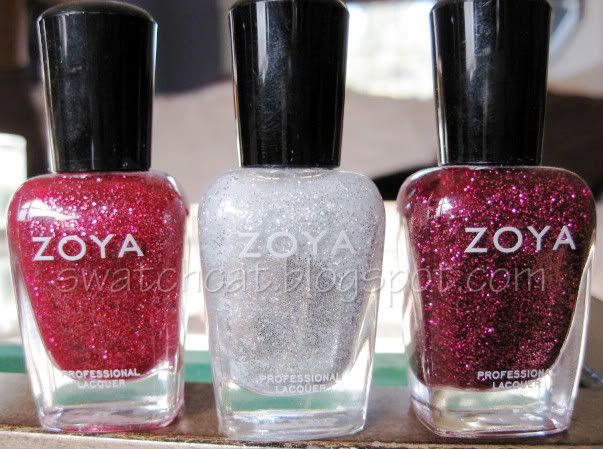 Ways to enter: 1. You must be a follower, so become a follower and leave me a comment! If you're already a follower, just leave me a comment! 2. Get an additional entry for featuring my giveaway on your blog (leave me a link to the post in a comment). 3. Get an additional entry for referring a friend who becomes a follower - you'll each receive another entry (be sure to note, by username, who you've referred/who referred you in a comment so I can credit you both)!
I will pick the winners on December 15th. This giveaway is open to everyone (U.S. and international). I will use random.org to generate the winners. All polishes are brand new from my personal collection. Good luck and thank you for your support!